Lamb's Markets and Bales Marketplace
Recipes
https://www.balesmarketplace.com/Recipes/Detail/7280/Alaska_Sole_Baja_Tacos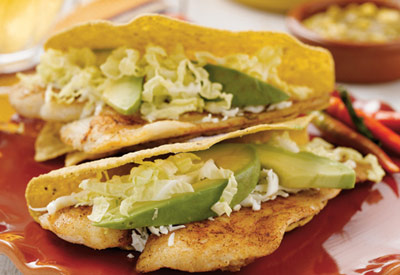 Alaska Sole Baja Tacos
Customer Rating:
1 Ratings 0 Comments
Yield: 4 servings (2 tacos each)
Preparation Time: 15 min; Cook Time: 15 min
1/2
teaspoon
chili powder

1/4
teaspoon
allspice

1
cup
salsa verde or tomatillo salsa

1/4
teaspoon
wasabi paste

1/2
cup
frozen corn, thawed

4
Alaska Sole fillets* (4 to 6 ounces each) fresh, thawed or frozen

1/2
Tablespoon
olive, canola, peanut or grapeseed oil

8
small (6- inch) corn tortillas, heated

1
cup
shredded Queso Asadero (large shred)

2
avocados, peeled, pitted and each sliced into eighths

2
cups
shredded Napa or Savoy cabbage
Nutrition Facts
Yield: 4 servings (2 tacos each)
Approximate Nutrient Content per serving:
Calories:
590
Calories From Fat:
261
Total Fat:
29g
Saturated Fat:
8g
Cholesterol:
111mg
Sodium:
825mg
Total Carbohydrates:
40g
Dietary Fiber:
11g
Protein:
44g
Nutritional data for 2 taco serving. 282 mg calcium, and 760 mg omega-3 fatty acids
Directions:
Mix chili powder and allspice together in a small bowl; set aside.

In separate bowl, combine tomatillo salsa, wasabi paste and corn; set aside.

Rinse any ice glaze from frozen Alaska Sole under cold water; pat dry with paper towel.

Heat a heavy nonstick skillet over medium-high heat. Brush both sides of sole with oil. Place fillets in heated skillet and cook, uncovered, about 3 to 4 minutes, until browned. Shake pan occasionally to keep fish from sticking.

Turn fillets over and season with chili powder and allspice. Cover pan tightly and reduce heat to medium. Cook an additional 4 to 6 minutes for frozen sole or 2 to 4 minutes for fresh/thawed fish. Cook just until fish is opaque throughout.

To serve:
Divide fish among tortillas. Top with 2 tablespoons cheese, 2 avocado slices, 1/4 cup cabbage and 3 tablespoons salsa mixture.
*Cook's Tip:
Also excellent with Alaska Halibut

Recipes and Images provided by Alaska Seafood
Please note that some ingredients and brands may not be available in every store.
Lamb's Markets and Bales Marketplace Recipes
https://www.balesmarketplace.com/Recipes/Detail/7280/Alaska_Sole_Baja_Tacos
.